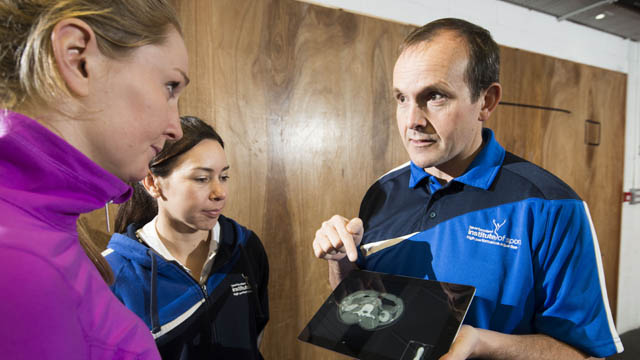 The aim of our sport medicine team is to help healthy athletes perform their way to the podium.
What we do
Sport & exercise medicine (SEM) doctors understand the need for athletes to train effectively to deliver results throughout the season. Working closely with athletes and the wider support team including sport scientists and clinical colleagues, the focus is on preventing illness and injury and delivering evidence-based medical care after accurate diagnosis, careful clinical examination, experience and knowledge in order to maintain a healthy athlete. Additionally the SEM doctor looks at travel implications, the role of rest and recovery and promoting a clean sport approach to performance. 
After an injury or illness, returning an athlete back to health to allow them to train and compete is important. As part of a wider support structure, the SEM doctor provides that expert clinical guidance, reassurance and judgement that complements the multi-disciplinary approach to performance sport. Lessons from the performance world have implications on all athletes, regardless of ability and the sport medicine team is involved in areas such as exercise as medicine, concussion treatment  and mental health awareness where we can all improve and live a healthier life.
Who we are
Three institute employees work with a network stretching across Scotland, from the Borders to Inverness, of similarly qualified and experienced SEM doctors.