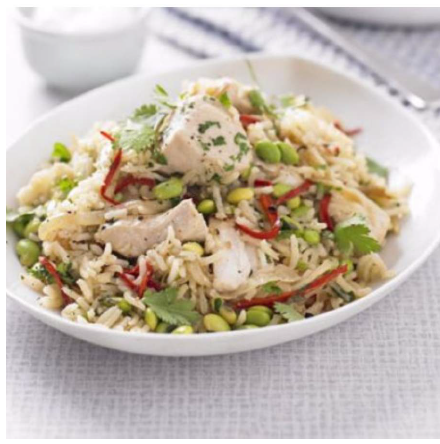 Ingredients
4 chicken fillets, chopped into small pieces
1 pint vegetable stock (from stock cube)
250g rice, uncooked
1 Onion, thinly sliced
150g Peas
100g Edamame(soya) beans
1 tablespoon Olive oil
1 teaspoon Ginger, fresh grated or thinly chopped/ground
1-2 tablespoons Fat free natural yoghurt (optional for serving)
Fresh coriander- chopped (optional for serving)
Method
Heat the oil in a medium space frying pan, then add the onion and ginger along with seasoning.
Cook for 5 minutes ten add the chicken and rice. Cook for a few more minutes then add the stock and bring to the boil.
Turn heat to low, cover and cook for 8-10 minutes until the rice is just cooked.
During final 3 minutes of cooking add the edamame beans and peas.
Serve with yoghurt and sprinkle with chopped fresh coriander.
Tip: Swap the chicken for tofu to make a veggie pilaf