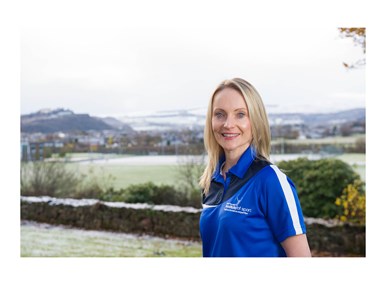 Linda Hardy is a physiotherapist at the sportscotland institute of sport, and is currently in the Gold Coast supporting Team Scotland athletes at the 2018 Commonwealth Games. Here she talks through her experiences as part of the team behind the team at Glasgow 2014. 
Morning
My day often begins with an early morning run or gym session as I feel this helps wake me up and gets me energised for the day ahead. However, if I have a particularly early start, then I sacrifice the exercise for a few more hours' sleep! 
Following breakfast, it's off to the venue. Depending on how many athletes are competing, you can be at the venue for a number of hours – often 10-12 hours a day. You help the athletes with their preparations: possibly some taping, a light bit of treatment, some last-minute checks or help with stretching etc. Then during competition, you are on hand in case there are any acute injuries that need to be dealt with.  
Competition
Competition days are very exciting. It's hard to describe the feeling you get when you walk out on to the competition floor with the team. The support at the Glasgow 2014 Games was amazing and the atmosphere they helped to create was just incredible.
As a physio with the sportscotland institute of sport, I am lucky enough to work with these athletes on a week-to-week basis. You see their journey through the years of hard work in the build-up to the Games. You see their highs and lows, often helping to guide them through rehabilitation of injuries. You know that this is the day they've been building towards for the past four years. So to see them performing on the world stage, fulfilling their dreams, is really special and to know you've been part of that journey is extremely rewarding.
Fortunately in Glasgow I didn't have to deal with any major injuries, but they can happen and it's important to be prepared for that situation should it arise. All members of the Team Scotland medical team will have done emergency care training pre-Games. All venues will have appropriate equipment and event medical staff to deal with an emergency. It is important that we meet with these medics pre-comp to get a clear idea of everyone's roles should there be a major incident during the competition.    
Post-competition 
After competing, many athletes will require treatment. This could be little niggles or minor injuries they may be carrying, or as part of their normal post-competition routine to help them recover and prepare for the next day. Occasionally an athlete might be carrying an injury that threatens their ability to continue in the competition. Any decision to withdraw an athlete is not taken lightly and would involve a number of members of the medical team (including the head physio and doctor) as well as, obviously, the athlete and coach. We are lucky that within the Games Village we have access to imaging (MRI scans, X-ray etc.). Therefore, if it is felt appropriate, these can be used to help inform decisions.  
Evenings
Following competition, it is back to the village. Many of the events can go on quite late meaning it can be after 10pm when you return. Fortunately, main dining is open 24 hours a day meaning that whenever you get back you know you won't miss out on dinner! The dining hall is probably one of the most talked about parts of any major Games and with good reason. There's an amazing variety of different dishes to choose from; the quality of food is exceptional (especially considering the huge numbers of athletes they are catering for) and in Glasgow it was great to see a strong Scottish influence to a number of the food choices.
After dinner it's back to our accommodation block. There will be an opportunity to touch base with other member of the medical team: to discuss any issues you've had throughout the day, get a second opinion on anything or just have a general chat! Supporting each other throughout the Games is hugely important. You need to work together to create a positive environment and help anyone if they're struggling or feeling down.
Then it's off to bed to recover for the next day. When you're working long hours for several weeks, it's important to look after yourself so making sure you eat well, get in some exercise and most importantly rest when you can.  
Other duties 
In Glasgow I predominantly worked with gymnastics. On the days when the gymnasts weren't training or competing I would help out at other venues or provide cover in the Team Scotland clinic at the village, treating athletes from a variety of different sports. This variety is interesting and the clinic is a nice environment to work in. It's an open plan treatment area specifically for Team Scotland so there's always a good team ethos and (mainly) a lot of good banter! Games coverage would be on the TV so you could keep track of how the wider team was getting on and we kept a medal tally in there, which was fantastic to see growing day by day. This treatment area was right next to Team Scotland's accommodation block so it was handy for the athletes and also included a recovery area with various recovery aids such as ice baths (rather them than me!). 
The Village is often described as "a bubble" and it really is. Although I was only a stone's throw away from the Emirates Arena, where I work on a day-to-day basis, it felt like a million miles away (which was obviously helped by the unusually sunny weather we enjoyed during the Games in Glasgow!)
You don't get much downtime during the Games but when you do it's great to go along and support athletes from other sports. In Glasgow, particular highlights for me were being at Tollcross on the evening Ross Murdoch got his gold medal, and at Hampden for the last night of the athletics.  
Being part of Team Scotland at Glasgow 2014 was probably the most rewarding and enjoyable experience of my career to date and I am both excited and honoured to be involved again in Gold Coast. I hope this article has helped to give you an insight into what the Games environment is like and the role played by the #TeamBehindTheTeam2018.